Michigan Software Services, Inc.
We sell / lease new IBM i5 iSeries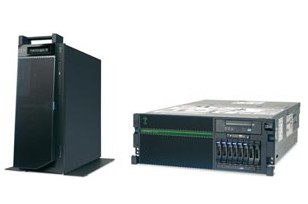 In order to be an IBM Business Partner for the IBM iSeries platform, a company must have people on staff that have passed exhausting certification exams.
We have such people on staff, both sales and technical.
IBM requires a Business Partner to bring approved value to each and every customer we sell a new iSeries I5 model 8202 - E4D or S814.
We have several software packages that likely meet your software needs.
We also are approved to migrate you from your older AS/400 to a new IBM i5. Complete packages start at slightly more than $10,000.
The current model 8202-E4D and S814 have a speed (rated on a scale called CPW) that is far far faster then all older AS/400 and iSeries 400, and in most cases is in a lower software tier. Thus if you are paying renewals at the P10 level, you likely could be a P5, and if you are a P20 you may be able to now be a P05 or P10. Tremendous savings!
The new models do not suffer from the Interactive speed governor. They run V6R1, V7R1 and V7R2 of OS/400 and also have the S/36 Environment.